How long do cardboard cat scratchers last? That's a really great question and solely depends on the cat (or cats) and the strength of the cardboard cat house.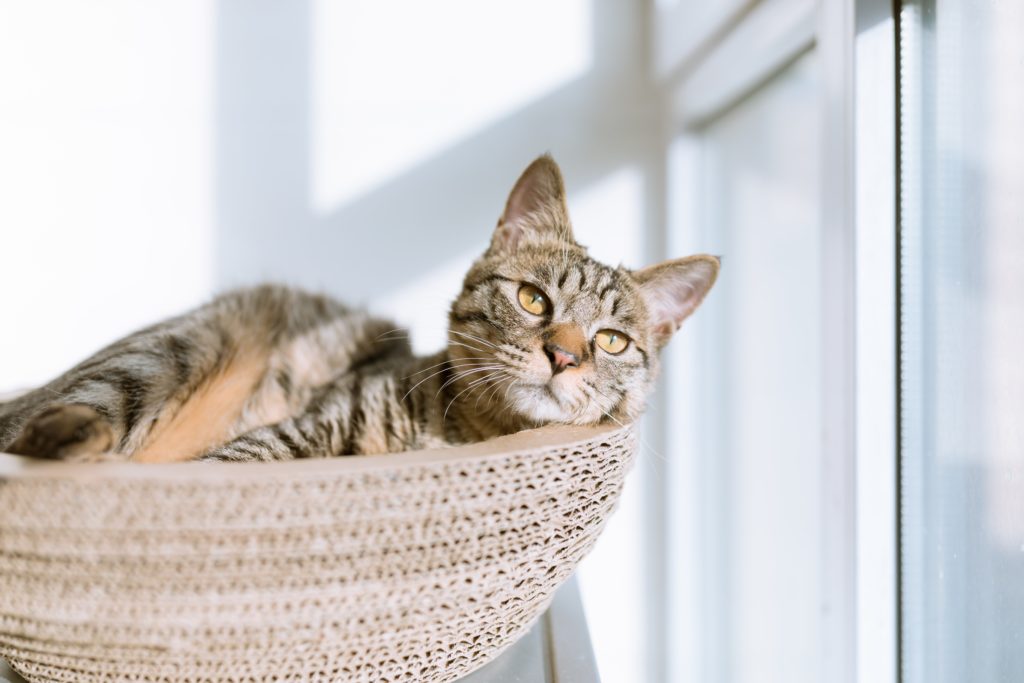 How long do cardboard cat scratchers last?
The average cardboard cat scratcher can last for MONTHS with just one cat.
We have a fur-baby who used her cardboard cat scratcher regularly for over a year. That was with daily use, but not abuse.
She used the scratchpad as needed and never went crazy on the actual structure. Her Halloween cat house lasted well into the New Year and we eventually replaced it simply because of the season and not from overuse. To keep her interested we regularly sprinkled with catnip.
We all know cats are different, especially when it comes to size and activity. An inexpensive cardboard cat scratcher, AKA under $15, can last for months with a docile cat or days with a big and active cutie. Only you know your cat!
This is one of the reasons why we love cardboard cat scratchers and houses— they are inexpensive and disposable!
We are pro cardboard cat house for every occasion…We keep our cat scratcher houses up for every holiday and then switch out with a new season.
This keeps our cats occupied and they never get bored— plus we love changing things up because there are always new designs…we're all about keeping things fresh!
How Often Should You Replace a Cardboard Cat Scratcher?
If we had to guess, we would replace a cardboard car scratcher at minimum, 4 times a year. This keeps things interesting for both you and your cat.
You could replace at the start of the four seasons: winter, spring, summer, and fall. Or at every major holiday: Thanksgiving, Christmas, Valentine's Day, and Easter. (there are many other holidays in between for extra fun!).
The bottom line is cardboard cat houses are supposed to be fun for you and your cat— there is no rhyme or reason for switching things up. The one thing we do know is our cats love new and interesting things, so any change brings an element of curiosity!
Be sure to follow us on Facebook and join our cardboard cat house group to share your own photos and videos!